Continental Filing Systems is a family business founded in 1955 and based in Laval, Quebec. Currently, CFS occupies both an operations facility and a distribution warehouse in Laval, Quebec, where the manufacturing, packaging, storage, picking, packing and shipping activities occur.
Our main product lines are hanging folders, file folders, and flexible tabs, which can be found across Canada in many large distribution centers such as Wal-Mart, Costco and Basics Office Products either under their brand name or that of CFS. Our mission is to be a leading manufacturer of office supplies.
We believe that businesses are responsible for achieving good environmental practice by operating in a sustainable manner. It is for this reason all CFS paper based products are manufactured with the use of recycled paper with high post-consumer waste.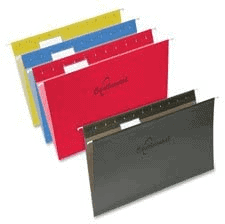 Owned In: Quebec
close
Last Updated July 7, 2021
Made In Laval, QC:
Hanging Folders
File Folders
Flexible Tabs
Continental Filing Systems Availability:
Find A Retailer Buy on Amazon.ca



More Canadian Made Stationery